NFC in shop window displays
NB: this blog posts for an internal show & tell, but I've published it to my blog as it's in relation to the stuff I typically talk about. For privacy, some details have been omitted.
I absolutely love digital marketing! I love being advertised to, and I love how companies have the ability to instil emotion in me and manipulate me to buy their particular product. I know they are doing it, but I'm happy to take part. Because of this love for marketing, (which I think comes from watching far too many re-runs of Mad Men), I love applying everything I know about technology to help remove the friction between marketers and advertisers and the public.
I love luxury brands. I've always been into high end watches or 'haute horology' if you will. I love the sense of theatre when you open the box of something expensive. In particular brands such as Vacheron Constantine, Audemars Piquet, Breguet, Lange & Sohnne, Jager Le Coultre, Patek Phillipe – all brands I'll probably never be able to afford but the packages they come in are spectacular. Tie that in with the craze of 'unboxing videos' and you have yourself hours of wasted time spent watching this stuff on YouTube!
A while ago, you may remember reading my blog posts about NFC technology being used in retail and some of the work I did for clients such as Yum Global & McDonalds implementing NFC into pizza boxes and digital advertising displays. Well now I'm excited to apply this very same technology to an idea I have for the financial services sector I'm currently working in and I'm delighted after binging on Posh Pawn, that I can help shape some ideas for the pawn broking industry. I mean, me, expensive watches, technology – it's like a wet dream!
So, let's just outline NFC again if you're new. NFC is a passive (typically) radio technology a bit similar to Bluetooth. It's used for things such as security passes, contactless payment, your London Oyster card and hotel key cards. You can read my other posts here for more detail but its everyday technology you probably don't even think about. But it's here, and it still surprises me that it's massively underused.
Below we have a shop window. A shop window with a fine selection of products can I just add.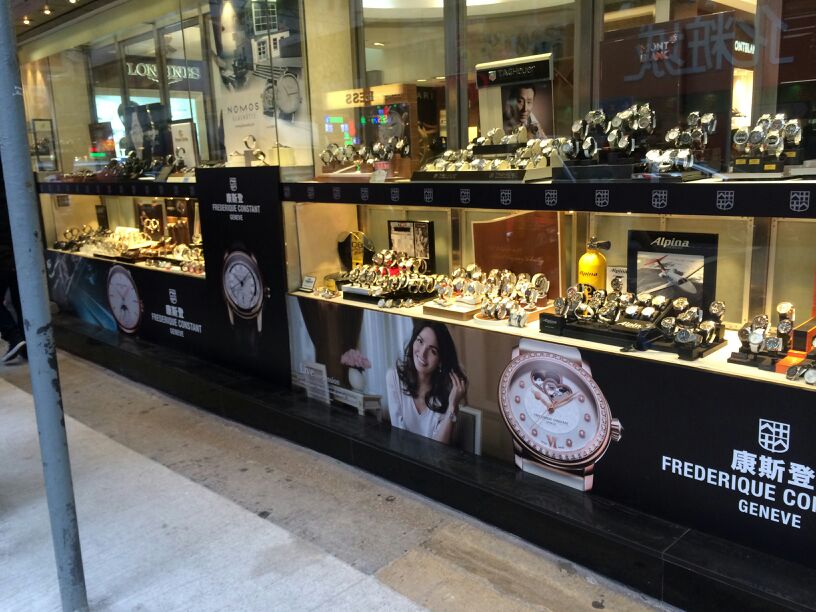 You're only real way of interacting with those products is to consume the little tag or any information on the price label, and between you & it, a piece of smeared dirty glass. (nothing says luxury when looking at a Patek Phillipe Annual Calendar than looking at it through a window covered in bird shit) There's no contextual information, there's no interaction point other than going inside and speaking to a 'potentially' snooty sales staff member who will be questioning whether you actually have £54k to spend on a watch on the basis of what shoes you're wearing.
So, by using an opaque overlay on either the inside or outside of the glass, and embedding some simple NFC tags for key show pieces, users could tap their phone onto the glass & receive contextual information about that particular piece. It could be a video, or it could be pricing information, or it could be a discount code of some description. The ability to use IF, THEN, ELSE Boolean (if then else website) based logic on these tasks to perform simple or quite complex actions means the opportunities are endless for retailers. Why would a customer want this?
They want to take home the link to the product, to maybe order online, or do more research later when they are at home
They want to retrieve additional information as they are considering making a purchase there and now.
They want to quickly send a link of the item to a friend, or post on Social media something they are considering buying.
They want to take advantage of a discount code or other sales offer being offered to them.
So with some ideas in mind of why a customer may want to use this technology let's look at the obvious benefits to the retailers.
A way of pushing more contextual content to the customer, enhancing the experience and potentially increasing conversion
A cross sell opportunity for other related products
A way of offering discounts and other enticing opportunities in relation to that particular product.
A way of tracking customer activity or interest, (and maybe skewing the window display to put popular items front and centre)
Brand promotion, – people taking away a 'snackable' piece of bite-size content on their phone are more likely to re-engage with the brand , promote on social media and help increase brand awareness.
There's a fantastic slide share here on the 'nine golden rules of NFC marketing' and I heartily recommend you give it a quick read.