Microsoft Lync Client download & Silent update notes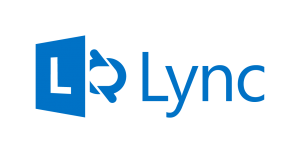 NB: _ Original article from Unified.me
I've put all the Lync executable including Cumulative updates & such like in my cloud, you can get them below – this just makes it easier for me when I'm installing clients. A useful tip (for me) has been silent install options for the client.
To access the functionality of Lync Server 2013 and have an authenticated experience, users need the Lync client application. There are several clients available for use with Lync:
Microsoft  Lync  2013  –  the complete Lync client, which is part of the Office ProPlus 2013 Suite and can also be purchased standalone.
Microsoft Lync Basic 2013 – a less feature-rich 'Free' client for Lync 2013.
More information about differences / client comparison can be found here. But in a nutshell, Lync 2013 basic client lacks
Advanced call features – team call, call forward and transfer, voice mail, call delegation, search for response groups, and remote call control
Calendar delegation
Multiparty video view
OneNote meeting notes
Client side recording
Skill search
Virtual Desktop Infrastructure (VDI)
Two versions of Lync basic client can be downloaded from the links below.
The Process
1. Extract the contents of lyncentry.exe to a folder C:lyncentry.exe /extract:C:Lync2013Basic (I tend to do it from an elevated command prompt)

2. Start Admin Install C:Lync2013Basicsetup.exe /admin
3. Select Create a new Setup customization file for the following Product – Microsoft Lync Basic 2013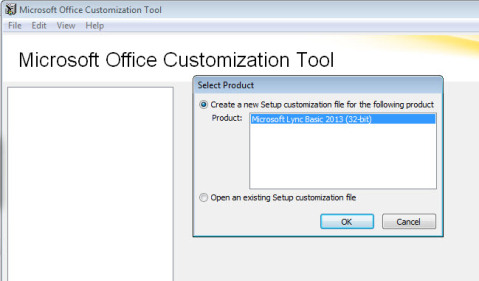 4. Select the following under Licensing and User interface
Accept the License Agreement (Ofcourse   )
Change Display Level to None
Make sure Completion Notice and is Unchecked and Supress Modal is checked.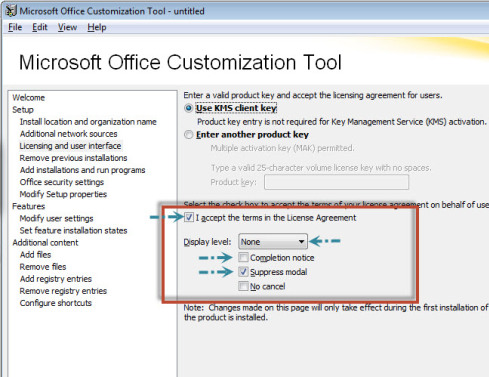 5. Under Features –> Set feature installation states, Select Run from my computer on the Microsoft Lync drop down.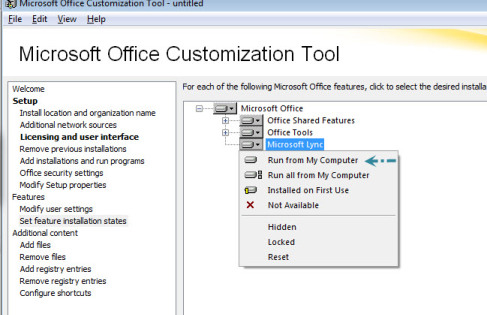 6. Click on File –> Save. Here you have 2 options.
Option 1 – Save the MSP file under the Updates folder in the extracted location – C:Lync2013Basicupdates

Since any patches placed in this folder is applied during initial install, you can just run C:Lync2013Basicsetup.exe (As above I tend to do it from an elevated command prompt) and it will use the config in the MSP file.

Option 2 – Save the MSP file somewhere else.

In this case, you'll have to reference the location of admin file whilst running the setup. C:Lync2013Basicsetup.exe /adminfile c:LyncBasicQuiet.MS
7. Either ways, you will get a popup and install continues silently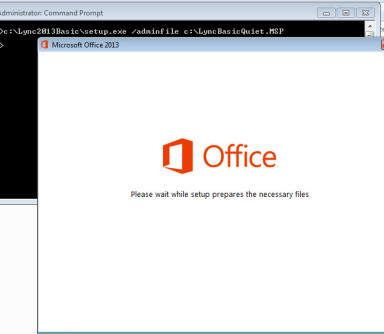 8. Upon the first run, you will need to chose windows update settings in First things first pop up – which you can opt to ask you later as well.