Review – Blu Beets Heart Rate Monitor
Not away from my problems mind you, responsibilities or even the difficult choices one needs to make in life. Nor do I run from those bad decisions we tend to make at New Years Eve after too much Prosecco. No no…
I run for health. I run therefore I am.
I love running. It's that low-fi high-yield exercise which when done correctly pays dividends for health & well being. And for a fatty like me, I need to lose weight and fast – so running really does cut the mustard. I don't need an expensive Gym membership, I don't need a range of bats, clubs, balls (ohh err!) and you can simply strap up your shoes & get running… (nb: other exercises are also available!)
With health comes monitoring & with monitoring comes that thing all IT nerds love…data….BIG DATA. One of the reasons I enjoy running is the amount of data I can collect, and use that to perform better, run my sprints faster, my duration's longer & my overall times quicker.
I'm in no way an expert though, but at my peak a few years ago, I was running a minimum of 5k every other day in about 24 mins. For a 6ft 1 fat lad, I found that impressive.
I've used Runtastic as a tracking app for a long time now, having trialled a few including Endomondo (when I was more into Mountain biking), MapMyRun (out of curiosity) and Health (when I used an Apple Watch).
I like Runtastic as it links into all my other health apps, ties in seamlessly into MyFitnessPal for diet tracking, my IOS eco-system (Spotify, multiple devices) and has social sharing by default so I can get that brag factor in which let's face it is single-handedly responsible for most amateur keep-fit'ers taking up exercise in the first place! I mean why do anything unless you can show off on Social Media – that's how it works right?
Anyway, so Runtastic as you will I'm sure know, uses the plethora of sensors in your handset such as the accelerometer, gyroscope & GPS to calculate steps, speed, location and it does it pretty well with reasonable accuracy. What it doesn't do is heart rate. Heart Rate is a very important metric you want to keep an eye on.
My initial option was to either use my Apple Watch, but that would involve moving over to Apple's health app, and wearing a £300 'posh fitbit' doesn't sit well with me when I'm running some of the more 'urban' routes I do.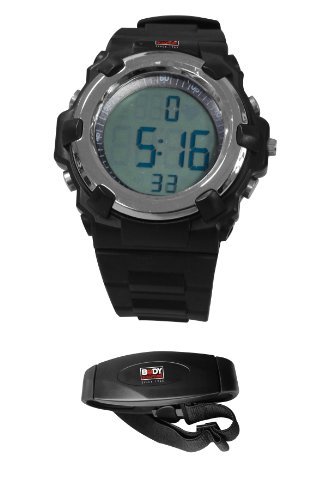 So I then purchased a rather cheap standalone heart rate monitor (see pic to the right) & accompanying watch, which although worked quite well, I didn't have any way of melding that HR data into my overall fitness data – besides, I then also had to junk my nice Adidas sports watch for the HR compatible one. So this wasn't the best solution either.
Recently my partner (@mummydaddymia) got a HR monitor to review, and as the house-hold wannabe fitness bunny I was given the task to try it out & write up my review. The killer feature for me (as far as I was going to be concerned with) was the true Bluetooth compatibility which meant I could use it as a HR sensor from within Runtastic – schamaze! So fanfare please – the Beats Blu Heart Rate Monitor 
My point of reference is a medical grade Omron and I know my heart performance data typically so know when I'm getting decent accurate readings or not.
Overall Build Quality
The issue with chest straps for those with 50″ chests & above, is they are rarely sized correctly & the clip/locking mechanism is often quite poor. This however uses a stud button fastening which works well, (see photo) feels robust & event when wet (read sweaty!) almost assuredly wont unpop mid-run. Whilst I'm yet to give it a prolonged use, the first few initial runs, it's behaved. In fact, it clung to me better than a footballers ex-wife after a lottery-win!
Sensor & Electrodes
The sensors on cheaper devices can be quite large, this is pleasingly small and doesnt get in the way of clothing. It also wouldnt protrude too much if you were wearing something skimpy or low cut (man-cleavage anyone!?) A note on the electrodes though, which sit either side of the monitor and need to be placed centrally across the chest/torso – The instructions recommend wetting them with either gel or water, as natural sweat wont get them wet enough to measure the electrical resistance. This is good to know, but not overly clear in the instructions. I'd hate to do a few runs, find the HR data not forthcoming and realizing it was because of the lack of moisture on the sensor.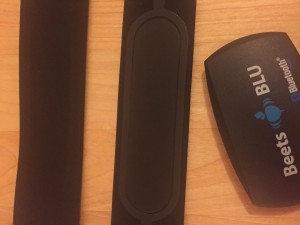 Pairing with Apps
It's not a ANT+ device, it uses the less secure Bluetooth (see SIG data here) standard, but promises effective connectivity up to 10 meters. I'm not sure how this would be any use, if I was 10 meters wide a HR monitor would be the last of my worries but it's good to know anyway! Simply firing up scanning in Runtastic allowed it to immedietley find the Bluetooth device & I was able to add it as a compatible HR sensor. One marginally disappointing thing was it's not clear with it's list of apps which require the 'pro' version of to be able to use. So for Runtastic for example, you need the Pro account to be able to log HR data. Now, not a fault of the device par se, but maybe do a deal with these major apps and include subscription within the price? Appreciating Runtastic do their own kit so this may be a big ask….anyway just one to note.
Performance 5/5
My first run, I was able to use the audio 'glance data' provided by Runtastic to temper my effort and keep my heart rate within its performance peak. Having Runtastic read out my heart rate was a real plus point from what I'm used to (having my HR data on my wrist) so it really helped. It was seamless throughout my 5k.
Post Run clean 3/5
The strap I can tell now, is going to get really gunky. I keep it clean with a wet cloth & then hang it to dry but I'm not yet confident to sit it in a cup of hot water as I did my old cheaper monitor strap – those electrodes look pretty sensitive so keeping the thing clean I think is the main issue here.
Data Accuracy 5/5
Comparing it to both my other HR monitor & my Omron, it seemingly performs well. Giving me the results I expected, never failing connection & no surprises I immediately had confidence with it and am already looking forward to taking it out onto longer runs.
Support 3/5
The websites ok, gives a bit of useful information for those who've not used a HR monitor before, a bit sparse but ok.
Summary 4/5
great bit of kit, less expensive than those offered by Runtastic and seemingly just as good minus the branding. Websites a little bit of a let down, but what do you want for £40. Works well, and not too bothered if I lose it.
The above are my own personal comments based on receiving one to test – I am not paid nor endorsed by Blu or any of it's affiliates. Tell me what you think, let me know on Twitter @mariodc