Watch review – Globenfeld Automatic limited edition
Watch Review
Watch review – Globenfeld Automatic Limited Edition
Watches. I love em'. Us men don't get a lot of opportunity to show individuality what with our identikit uniforms of suits, shirts & ties & Action man-esque haircuts so a good watch (or a good looking watch )is always a great way to show individuality & some style.
Now, I'm into luxury Swiss watches. I think they are a marvel of engineering & when I say into them, I mean, I'm into them. I even did a stint of work at a luxury Pawnbroker just to be close to some & whilst I can't afford to buy any which I want yet (think Patek, Lange & Sohne, Breguet, JLC) I am fairly happy with a sub £100 chronograph from the likes of Sekonda and often I'll be happy with that. I would never wear anything fake so I'd rather have something nice & simple until I can afford something I'd like. (If anyone wants to send me a Patek Phillipe Calatrava or maybe a Breguet flyback, that'd be great, k, thanks!)
However, away from the luxury brands & high street 'designer brands' which people tend to have heard of, there's a family of watches, (known as mushroom brands) which purport to have Swiss heritage, pop up out of nowhere, have full automatic movements and carry a look & feel of something more expensive utilising well known features such as 'Breguet hands' or exposed main springs & exhibition backs.
You'll see them on Amazon, at tantalising price points of anywhere between £100-500. Brands such as Thomas Earnshaw, classic example. There's some lovely looking pieces but I'm often worried about the build quality so think I'd rather just put the money to the Patek fund.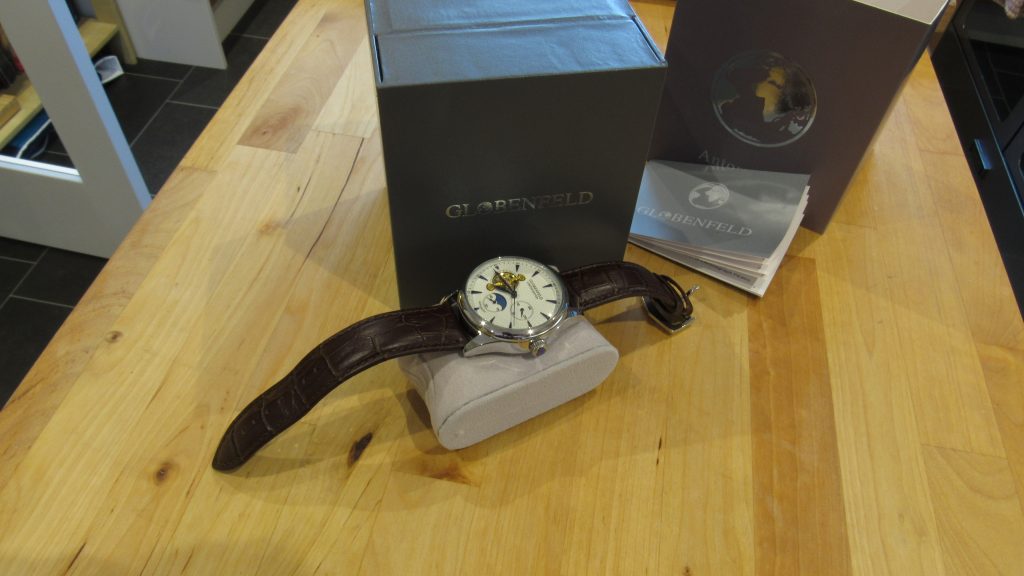 The Globenfeld is such a watch which was given to me to review from @mummydaddymia and to say I was sceptical was to say the least. It came in fairly basic packaging with a multi-model manual not actually listing the watch model we had. I then checked out their (very basic) website & wasn't hoping for that much.
I was wrong.
Now, look, as a watch snob I am *not* suggesting this carries any prestige whatsoever, in fact Archie Luxury would call this a piece of 'dogshit' or an 'utter shitter' but I gotta say fuckers, (to use his vernacular) the watch looks great. In fact, it looks more than great.
It's a very nice white dial complication consisting of a moonphase, minute and second marker along with an open heart exposed main spring masquerading as a Tourbillon. It sits in a 13.3 x 43mm stainless steel case on a croc brown leather strap and has an exposed skeletal back showing the rotor.
It feels good, and looks lovely. In fact, you could easily pass this off as something worth about £2-4k.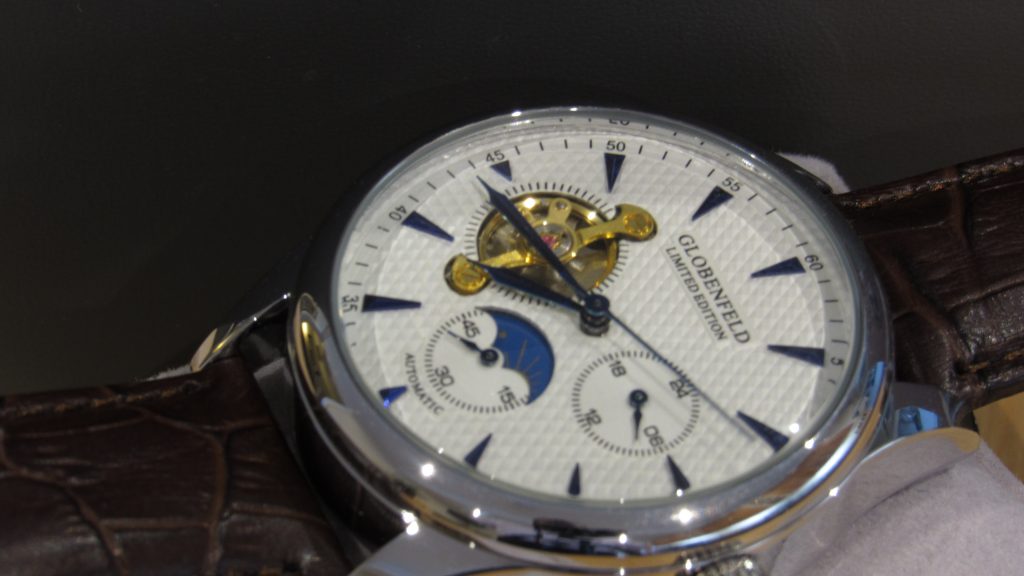 Obviously the website carries the usual BS of 'Marcus Globenfeld' being a respected Master craftsmen in watches etc, and you have to excuse this as just marketing as that's all it is, but as a watch it's a lovely little thing. You can check out the Amazon reviews to see for yourself, and it totally gives me confidence in other brands, and you could build yourself an inexpensive collection up of really nice looking watches.
I highly doubt this is going to last, and I wouldn't expose it to the elements too much. That cheap Asia movement is going to have little to no durability I suspect, but time will tell, I've only had it on-wrist for a few days.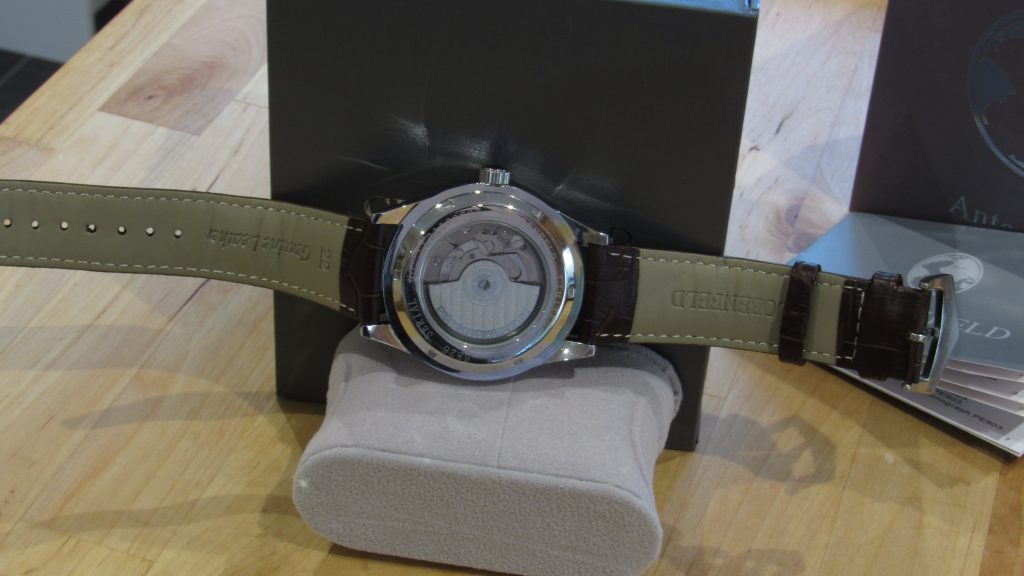 I would say if you've never had an automatic watch before, there's no instructions in the box and if you know watch movements you'll know that there is an art to not only winding them, but ensuring you wind them correctly and in the correct direction whilst ensuring the hands are in specific positions. None of this detail is in the box, and I reckon that a fair few people are going to buy from Amazon, get it out the box to find it not working, and crank the crown for all it's worth subsequently fucking the main spring before they have even worn it, so I'd recommend looking on the Internet for a good guide on winding automatic watches before you touch it, if you're not sure.
Overall I'm very impressed, looks great with a suit and is big enough for my rest. You should note if you're a precious snowflake kinda guy with dainty wrists any of these types of watches aren't going to suit, you can't expect small thin profile movements at this price, but if you're a bit of a chunk and want something large on the wrist, this is a great buy.
Totally recommend, 10/10