How to build a rainbow.
Sometimes I just want to talk about something that's happened to me – that's all.

I had a conversation with the team today. We were looking at logo's and discussing how to simplify a fairly colourful logo which contained a rainbow (for print-cost reasons) because as it stood, it was too expensive to print. How to build a rainbow then. I said "why don't you reduce the amount of colours in the rainbow" and some clever git piped up "a one colour rainbow? that doesn't work, it wouldn't be a rainbow!". Do you know what, he was exactly right.
It got me thinking about how in Project Management, you're always balancing the compromise of the quality of the end cost vs. the budget and also making sure you don't lose the meaning of what the product should be, because you're centred around a budget goal.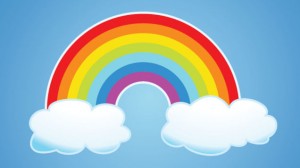 There's always time for reflection in Project Management, making sure you don't get too bombarded with process and framework that you forget what you're actually trying to deliver is a rainbow!
One colour rainbow? It's the future! MAYBE!
See my slide deck below which contains some thoughts.
[embeddoc url="http://https://www.mariosblog.co.uk/wp-content/uploads/2014/11/PM_Pres.pptx"]